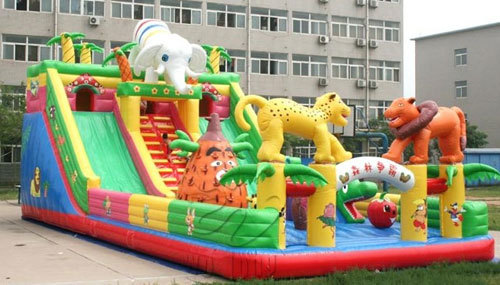 Nowadays inflatable park can be seen almost everywhere, but with the popularity of inflatable park, the problem gradually emerged. Occasionally, the inflatable park has been overturned, and it can be said that it is endless. So how to do the safety measures of the inflatable park?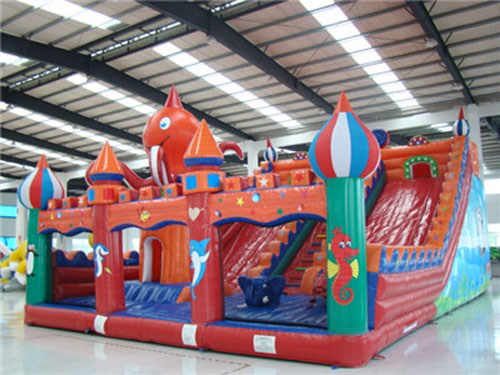 Regardless of the size or the style of the inflatable park, the inflatable park is mainly for children, and adults are a minority. Children's awareness of self-protection is very weak, and children are so curiosity, but curiosity can also dangerous. Therefore, the safety measures of the inflatable park are top priority.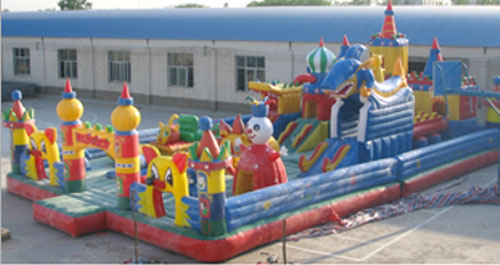 First let me talk about the safe use of inflatable park.
1. When using a fan to inflate, pay attention to whether the power supply voltage is consistent with the product description.
2. The case should be connected to a reliable ground wire, and it needs to be checked regularly. Install a protective net on the air inlet of the fan to prevent safety accidents.
3. Turn off the power, open the fan interface and the exhaust port when collecting the inflatable park. The exhaust time is generally about half an hour (depending on the size). If there is water in rainy days, the water must be drained and dried.
4. The inflatable park should be cleaned and disinfected regularly. The park can be washed with washing powder. After removing the stains, it should be washed with water and then dried.
5. If the park is not used for a long time, please pay attention to folding, bundling and packing after cleaning. The storage temperature should be -20 to 40 degrees. And pay attention to prevent rodents from breaking outside the castle.
6. should pay attention to prohibiting young children from playing irritating items. Avoid excessive age differences and prevent collisions between older children and young children.
7. Managers should monitor at any time and teach children to follow the rules of the game to prevent accidents.
8. In case of windy and rainy weather, outside use should be prohibited to avoid accidents.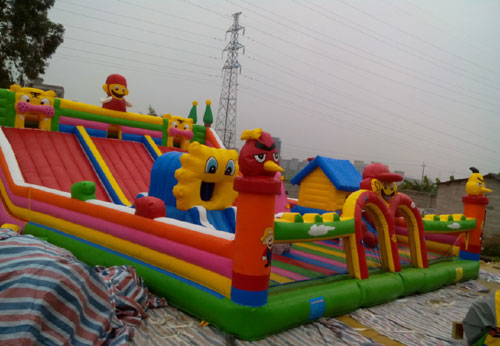 In addition to the problem of the inflatable park being overturned, it is necessary to do a good job of wind protection and fixing.
1. Pull the park apart and inflate it, and place in a proper place
2. Attach safety ropes to the safety noses on both sides of the park (the rope can withstand a static tension of not less than 500 kg), and then pull the safety rope down to the ground vertically to mark the point of contact with the ground, then fix the expansion hook at the marked position
3. Tie the safety ropes on both sides firmly to the corresponding expansion hooks. Fixing measures: All use UV-resistant nylon ropes or steel ropes for fixing. Sandbags cannot be used for simple fixing.