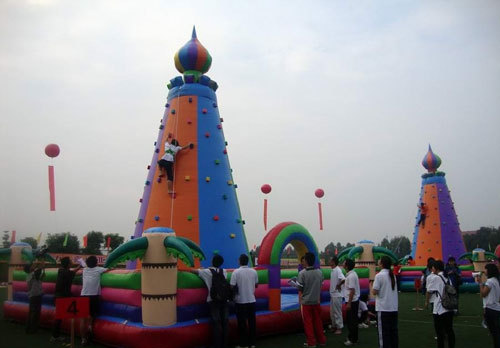 Most primary and secondary schools in European and American have incorporated inflatable rock climbing into their physical education curriculum. In Taiwan China, more and more primary and secondary schools or kindergartens have recognized this trend and built inflatable rock climbing grounds and conducted inflatable rock climbing courses on campus. Why is there such a phenomenon?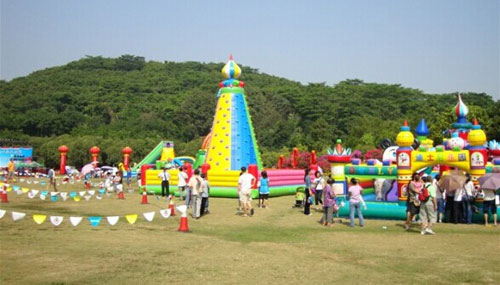 With the improvement of the quality of life, people have higher and higher requirements for life, and more people want to experience more exciting projects. Rock climbing is a very exciting activity, but traditional rock climbing requires a certain degree of skill and is very dangerous. It is under such circumstances that inflatable rock climbing came into being. Inflatable rock climbing not only meets the needs of people seeking excitement, but also has high safety, and the requirements for the site are much lower than traditional climbing.
Although the inflatable rock climbing is small, you can not only enjoy the fun of climbing without worries in the small inflatable rock climbing, but also feel the uniqueness of the inflatable castle. "Climbing" is an excellent activity to improve children's sensory integration. In the fun and inflatable rock climbing game, children's physical fitness, hand and foot grip, balance, height adaptation, concentration, aggressiveness, hand-eye coordination and rhythm can be improved.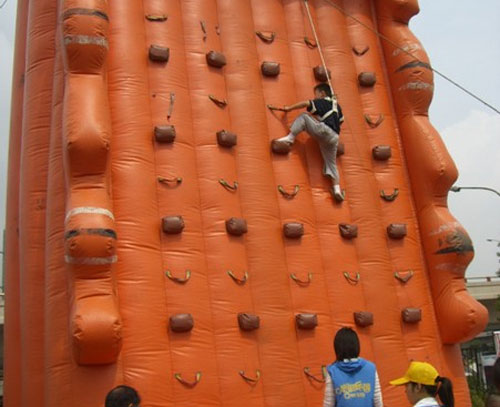 In addition, the inflatable rock climbing has six major benefits.
1. Inflatable rock climbing can enhance self-confidence - faced with a rock wall that is taller than your height, you still resolutely climb up, not afraid of facing the difficult challenges in the process of inflatable rock climbing, the heart is naturally calmer and more confident than ordinary people
2. inflatable Climbing can enhance physical fitness - Inflatable rock climbing is a balanced force and beauty of hands and feet, and it is sufficient to carry its own weight and resist gravity, girls are not inferior to boys in inflatable rock climbing
3. Inflatable rock climbing can improve concentration - when stepping on solid rocks and paying attention to every detail of the body's movement on the rock wall, special attention is needed at this time, which will greatly help children's future learning achievements.
4. Inflatable rock climbing can increase aggressiveness - when you are climbing, do you give up or continue to insist? There is no longer only courage to describe, but also willpower, honor and determination to surpass yourself
5. Inflatable rock climbing can improve the body's softness and sense of coordination - this is the key ability of inflatable rock climbing, its importance is more important than physical strength, there are already foreign medical fields using inflatable rock climbing to correct the development of children's muscles, and the hands and eyes coordination of body.
6. Inflatable rock climbing can enhance the sense of balance - The basic posture of inflatable rock climbing is "three-point motion, one motion", which is the sense of balance