The environment around the inflatable castle is indispensable for selling food and drink, but accidentally spilling food on the bouncy has a great influence. At the same time, the hygienic problem of the bouncy castle is also very troublesome. This kind of food stains can take a lot of effort to the cleaning. So when there are tourists carrying food and cold drinks into the bouncy castle for play, stop it in time.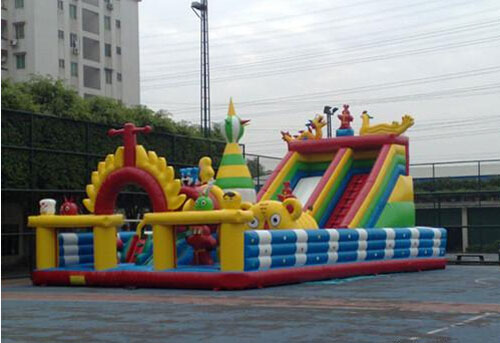 Of course, when the inflatable castle is in operation, it will inevitably get a lot of stains, which is unavoidable. However, as the operator of the bouncy castle, it must not be easily overlooked. If these stains are not cleaned for a long time, they will breed mosquitoes and bacteria, and the health problems will become more and more serious. Therefore, the operator should always clean the bouncy castle, first wash off the stain with detergent, and then wipe it with a soft towel.
Also note that the rainy water has an effect on the bouncy castle. Although these waters seem to be a small threat, but the water in such a large area of the inflatable castle can hardly be evaporated at all. If you drop some food, such as food residue, it will become A paradise for mosquitoes. Over time, it will cause irreparable damage to the bouncy castle, not only will lose a lot of tourists, but also cause a certain degree of damage to the bouncy castle. Therefore, after the rain, it is necessary to check the bouncy castle and clean up the accumulated water in time.