Just as people often have to check, the inflatable water park is also subject to daily inspection and maintenance. Before daily use, check the inflatable water park and water treatment equipment to see if the park have exposed sharp edges, sharp corners, burrs, and water leakage. Make sure the water treatment equipment is operating normally, and the supply of pool water is guaranteed.
Regularly organize the safety inspection and maintenance of all water parks by year, season, month and holiday. Including inflatable water slides, swimming pools, lighting systems, water treatment equipment, so that the entire amusement system meets the requirements.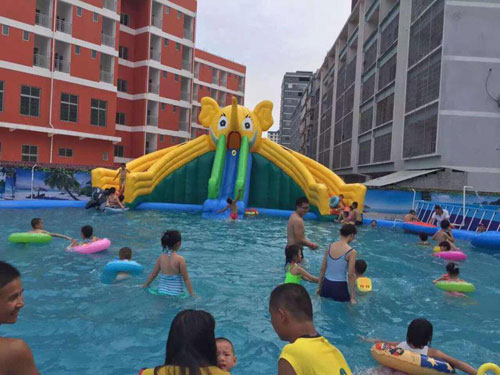 During the use of the product, there maybe stains. It can be cleaned with a bathing gel. Use a soft towel when cleaning. Do not use a hard brush. If the metal part is rusted, use a brush to remove the rust and wipe it with a dry cloth. After exposure to the sun, you can buy a colorless self-spraying paint that is about 20 cm away, and spray it once while sweeping. It plays a protective role, and the paint is completely dried before being washed, dried and disinfected.
Essence of life just want trying to make the inflatable water park last longer, but if your park is inferior, it will easy broken even you maintain it. Therefore, choosing a good water park is the key to ensuring that the product can be used for a long time. Good products with daily care and maintenance, are the secret to ensure the long-term use of the inflatable water park. The quality of the inflatable water park mainly depends on the quality of the PVC material and the structural design of the product. The good PVC material guarantees the durability of the product and the reasonable structure ensures the safety of the product.