LED Lighting Advertisement Inflatable Backpack Ball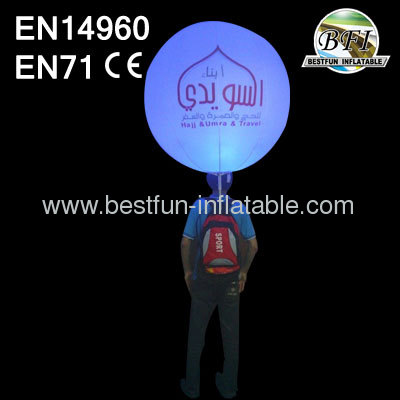 Size
90cmor customized
Basic Equiment
Blower:60W
Battery: 12v, 9A
(Same as motorbike batter)
Pole outside Size
1.6m-1.4m(Pole can adjust height)
Shipping
Sent by air or by sea
Weight&Package
6Kgs
120*30*25cm/1pcs

10Kgs with pack
120*40*40cm/5pcs
Notes
This movable inflatable decorations and LED lighting features will make your brand highly distinctive in every kind of promotional activity.

Automatically inflatable, inflatable LED lighting system works with battery

Can be used indoor and outdoor.

Provides effective advertismement space.

Advertisement balloon has a diameter of 90cm.

Logo printed on directly or changable logo banner with velcro.
LED lights decoration inflatablebring a brand new effect, Modern lighting for events. Fill big empty ceilings, Halls, marquees, entrances, stages etc. Light up your venue, Creates superb ambient lighting effects, daylight props.

An impressive and eye-catching prop and themed events. Sculptural lightingUse this concept to enhance your event.