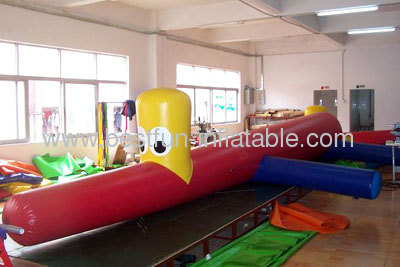 1.Product Name: Commercial Inflatable Water Game
2.Size: 8m*4m*1.5m or Customized
3.Material: 0.9mm PVC Tarpaulin
4.Accessories: CE or UL Certificated air blower,repair kits.
5.Inflatable water products have pass CE Certificate and meet EN71 standard.
6.Delivery time: About 3-5workingdays
7.Package: Double layer package with PVC Bag and Soft Carpet
8.Delivery Way: By air by sea, or by courier

1.Weld the joints TwoTimes to enforce the joints to void air leakage
2.Reinforced strips at joints
3.Refinforced and Comfortable Handles for safety and enjoying the fun
4.Humanized Designs to suit the Human's body
5.Metal D-ring for fixation

1.Rental or sell business
2.Amusement parks, rental business, family use, water parks and other purpose business
3.Can be applied widely to amusement park, square, park, super market, community, club, stadium, indoor and outdoor playground. It is fast andeasy to install, inflate and deflate.

1.Durable Material, Innovative and Humanized Design
2.More than 1200 kinds ,with CE Certificate
3.Integrity of attitude, good technology, Humanized services
4.Perfected Quality Control and After-sale service
5.Theinflatable water park games have been tested by the internationalmarket for decades such as Amerian Market and European Market.